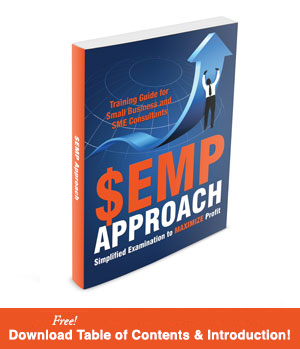 Individual training modules include:
Small Business and SME Today
General financial statement review
Revenue and expense review
Asset and liability review
Ratio analysis
SWOT analysis
Operations management
Strategic planning
Budgets and forecasts
Internal controls
Marketing and branding
Business organizations
Financing
Risk assessment and fraud deterrence
Marketing your consulting practice
SEMP Approach: Simplified Examination to Maximize Profit
A step-by-step methodology on how to consult with small businesses and SME
s

to increase operational efficiency and maximize profits.
A simplified approach segmented into easy, manageable units guided by a plan and checklists.
One comprehensive 325-page book encompassing all aspects of small business and SME consulting.
Small businesses and SMEs need HELP! It is estimated that there approximately 30 million small businesses in the United States and more worldwide.
Unfortunately, 7 out of 10 new businesses will likely survive for only two years and half will likely survive for only five years...staggering statistics!
Assist your clients in growing their own businesses while you grow yours! Consult the simple way - the SEMP Approach way.
Learn all aspects of small business and SME consulting with an easy-to-follow, logical, concise, systems approach
Practice aides (checklists) to guide and support you
SEMP Approach teaches you how to think "out of the box"
Can fit your skill level and needs of your client
The SEMP Approach training book is filled with
Questions to ask clients,
Possible recommendations
Consulting tips
The 40-video SEMP Approach lecture series
Combines with the SEMP Approach training book to maximize understanding
Small business and SME concepts made simple on videos
Learn at your leisure - watching and listening
Promote your small business and SME consulting practice
With new skills
With new ideas
With more to offer small business and SME clients
Become an Accredited Small Business Consultant® or Accredited SME Consultant (designation for international members)! Start learning today!